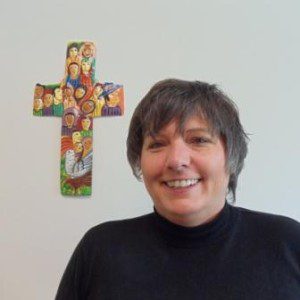 "Volunteering, making a difference, that's what gives me life" says Michele Silveri, "Meesh" to her friends.
Michele began her volunteer career at Holy Family when she moved from New York to South Pasadena 20 years ago. Her daughter Danielle went through Holy Family School and she started as a board-member for Religious Education.  For many years she set-up the playground for carpool – every day!   In 2002 she joined the Italian Catholic Federation (ICF) and has been its president for the last three years.
If you've spent any time helping with St. Joseph's Table – then you definitely know Michele!  She is largely responsible for the delicious smells coming from the Parish kitchen that weekend – as she  is the Chief Cook and oversees "the kitchen"  for the event.  And she runs a tight ship!  Even she admits that in the kitchen she is the "boss", but of ICF she says, "we love each other.  There is no fighting, no arguing.  I like people, everyone. We have a good time. My name is spelled with only one L – you see there is no 'hell' in me" she says with a twinkle in her eyes.
"Her 'tough' manner masks a heart of gold.  She is a real Paesana!"  Theresa  Shaw says of her friend  and fellow ICF member.
Michele says that her involvement with ICF "has given me a stronger faith, especially faith in other people.   We do all of this to give money to the Giving Bank and St. Vincent de Paul;  it's to help our fellow humans;  to make a difference. We don't live in this world by ourselves, we get life from volunteering."
Michele has deep respect for those around her and the special role we each have to play in this world, "everyone serves a purpose here, their purpose.  If we were all doctors, what would we eat?"
Michele takes her interest in people very seriously.  "I take a stand for human beings to get along."  To  that end she has taken many classes in the "Art and Science of Being Human" including a year-long course to provide "relationship coaching" to couples and those interested in improving their relationships, especially with members of the opposite sex.
"Men are a gift to women," she assures me, "we are not perfect, but we're perfectly made for each other. If we let go and let God,- get present to what is,  and ask for God's help, then amazing things happen – true transformation."
Michele, "Meesh"  is truly a gift to Holy Family and to this community.