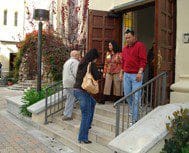 All Are Welcome!
We extend a warm welcome to visitors at Holy Family. If you are new to Holy Family or are visiting for the first time, be sure to stop by the Welcome Center located outside in the Gathering Area on Sunday mornings. There you will find a wealth of information about parish life, ministries, organizations, and service opportunities. On most Sundays, there is Continental Breakfast in the Parish Hall. We look forward to meeting you!
If you are visiting the campus at other times, please come to the Pastoral Center and pick up a welcome packet. The receptionist will be happy to answer any questions you may have or will refer you to the appropriate staff member. Above all, feel at home.
Holy Family is a large Parish – in our membership and in the scope of our activities.  There is a lot going on here, and it can take some time to figure out where and how you want to connect.  Whether you are a registered parishioner, exploring different church options in your area or just visiting Holy Family for a while, we invite you to contact our pastor, Fr. Albert to find out what ministries may interest you.
To register, please complete the Parish Registration Update Form
To learn more about volunteer opportunities at Holy Family – please visit the ministry page.