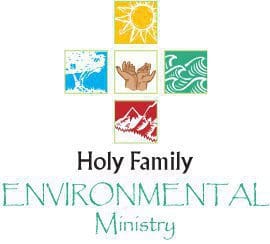 Mission Statement
With faith in an ever-creating God and with the Scriptures and Catholic Social Teaching as our foundation, we, the Environmental Ministry, seek to educate and inspire others in the Holy Family community to act out of reverence and respect for God's creation. We advocate education and activities that promote sustainable living and responsible stewardship of our resources and that address environmental challenges, especially those that affect the most vulnerable among us.
Catholic Teaching on the Environment
ENCYCLICAL LETTER LAUDATO SI' OF THE HOLY FATHER FRANCIS ON CARE FOR OUR COMMON HOME
The Catholic Church brings a distinct perspective to the discussion of environmental questions, by lifting up the moral dimensions of these issues and the needs of the most vulnerable among us. This unique contribution is rooted in Catholic teaching calling us to care for creation and for "the least of these." (Mt 25:40)   United States Conference of Catholic Bishops
Catholic teaching on Climate Change
 

Volunteer Opportunities
Please join the Environmental Ministry on the third Thursday of the month at 7:00 pm in the Pastoral Center for our monthly meeting where we  plan our educational and outreach opportunities.
For additional information, please contact the ministry at hfenvironment@gmail.com.
 1 Jan 1990 World Day of Peace:
PEACE WITH GOD THE CREATOR, PEACE WITH ALL OF CREATION,
POPE JOHN PAUL II

1 Jan 2010 World Day of Peace:
IF YOU WANT TO CULTIVATE PEACE, PROTECT CREATION,
POPE BENEDICT XVI
Fair Trade
November 7, 2017 (Edit)
Mission Statement
The Fair Trade Ministry encompasses Gospel and Catholic Social Doctrine principles by providing products for which the producer received fair compensation. These products are produced, bought, and sold in a system in which personal relationships are essential, and in which care for the environment is paramount.
This ministry reflects the mission of Holy Family Church by giving parishioners the opportunity to stand in solidarity with the working poor of our world – many of whom are the producers of items that we consume. It is reaching out to "those in need" of a fair wage for their goods, thereby giving them a better chance of decent housing, education, and community infrastructure.
About the Fair Trade Ministry
The Fair Trade Ministry accomplishes several goals.
Fair Trade products are available six days a week at the Holy Family Bookstore, giving parishioners and visitors an opportunity to purchase fairly traded, affordable products.
It welcomes Fair Trade farmers when they come through the Los Angeles area. For example, in 2006, Fair Trade rice farmers from Thailand spoke of their experience. In May 2007, two Nicaraguan coffee farmers, sponsored by Catholic Relief Services, gave a presentation about the difference the fair trade system has made in their communities.
Holy Family's Fair Trade Ministry is a strong supporter and member of the Los Angeles–wide movement Fair Trade LA (FTLA), a coalition of Fair Trade organizations in the Los Angeles area.
In a letter to parishioners dated October 2005, Monsignor Clement J. Connolly, accurately states the rationale for Fair Trade:
"I am writing this letter to inform you of our newly-formed Fair Trade Ministry. This ministry, started by interested parishioners and staff, aims to provide you with high-quality, premium products in which the producers are paid a livable wage. For thousands of farmers around the world, this fair wage makes the difference between living in severe poverty and enabling whole rural communities to provide food, health care, and education for its members. As a result, in keeping with the principles of our faith, this is a good opportunity to align what we believe as a church, with what we buy as consumers."
The Fair Trade Ministry seeks to grow its sales of Fair Trade products and to "send out the good word" about Fair Trade to the entire Holy Family community. The members of our ministry are very excited about our mission and are strong believers in this "practical justice" method. We would like more people to engage with it. We welcome new ideas and marketing strategies that will help raise awareness of free trade issues and increase sales of free trade products.
Catholic Relief Services Fair Trade
Sweet Earth Organics
---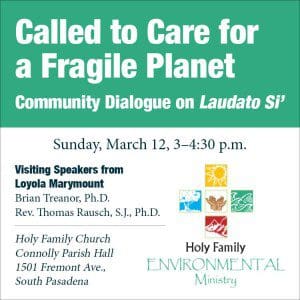 Click here to watch this powerful dialogue
___________________________________________________________________________________________________

Pope Francis and Water Conservation
Learn about local water and local history!
The arrival of spring begs the question: Did we even have a winter? It was the warmest—and third driest—season on record for the state of California.
Moderate to severe drought conditions currently exist for 99.8 percent of California, according to the U.S. National Drought Monitor, a reality not likely to change anytime soon. The National Oceanic and Atmospheric Administration recently predicted that this historic drought will persist through spring and into summer, with the threat of an active wildfire season looming.
The drought harms our state's water reserves and food supply, and causes ripple effects impacting everything from wildlife habitats to energy production.  Pope Francis describes the duty of the Church and its community of believers to respond to such a crisis: "In the end, everything has been entrusted to our protection, and all of us are responsible for it. … I would like to ask all those who have positions of responsibility in economic, political and social life, and all men and women of goodwill: let us be 'protectors' of creation, protectors of God's plan inscribed in nature, protectors of one another and of the environment."
Heeding this call to action, here are some surprising and simple ways you can cut back on water usage, courtesy of wateruseitwisely.com:
 Avoid recreational water toys that require a constant flow of water.
For hanging baskets, planters and pots, put ice cubes on top of the soil to give your plants a cool drink of water without overflow.
Cook food in as little water as possible. This also helps it retain more nutrients.
While you wait for hot water, collect the running water and use it to water plants.
At home or while staying in a hotel, reuse your towels.
Every little bit counts!
Got Fruit Trees? Feed the Hungry!
Holy Family's Environmental Ministry is organizing a backyard harvest to benefit the Giving Bank and Food Forward, a local organization that keeps fresh, homegrown produce from going to waste and directs it instead to people in need. In partnership with EDGE middle-schoolers and parish Confirmation candidates, this project will also allow Holy Family youth to fulfill service hours.
The ministry is currently seeking property owners in South Pasadena with fruit trees that can be harvested by a group of volunteers from Holy Family. In line with the mission of Food Forward, consider how you might "share the abundance" and emailHFEnvironment@gmail.com to submit your name, contact information, and the location at which our volunteer group can pick fruit for donation to the under-served. Please include the type of produce available and the season it is ripe for picking.
Over 36 million tons of food waste reach landfills each year in this nation alone, according to the Environmental Protection Agency. Catholic leaders have challenged the Church and its people to find answers to the challenge of needless waste. On World Environment Day, Pope Francis remarked, "We should all remember … that throwing food away is like stealing from the tables of the poor, the hungry! I encourage everyone to reflect on the problem of thrown away and wasted food to identify ways and means that, by seriously addressing this issue, are a vehicle of solidarity and sharing with the needy."
Learn more about the Environmental Ministry at holyfamily.org/environmental-ministry/ and Food Forward at foodforward.org. The ministry meets on the third Thursday of each month at 7 p.m. in the Pastoral Center. New members are welcome.
Pasadena's Zero-Waste Campaign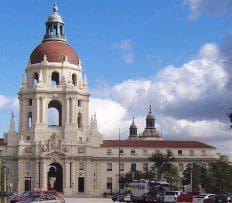 Holy Family's neighboring city of Pasadena has a goal of becoming a big, fat zero — a zero-waste community, that is. The Zero Waste Pasadena 2040 campaign aims to drastically reduce the amount of trash sent to landfills by virtually every waste producer in the community.
In reality, "zero waste" doesn't always translate to absolutely no waste, according to a 2011 report in the "Wall Street Journal." The standards are set by the environmental group, Zero Waste International Alliance, which marks success at 90 percent diversion or higher. According to Pasadena's Department of Public Works, the benefits of a zero-waste objective are plentiful. Not only will the initiative help shape a healthier environment and save useful materials from languishing in landfills, but it may even boost hiring in the recycling and manufacturing industries.
As more communities strive to adopt zero-waste measures — Santa Monica and Los Angeles, for example, have already implemented versions of the strategy — the task will fall to local residents, business owners, and city employees to keep garbage prevention top of mind. On the table are recycling and composting programs, educational outreach, and specialized trash sorting facilities — all tools that could help the city reach its intended target.
For Catholics, the importance of such efforts was made plain on March 19 at Pope Francis' installation Mass at the Vatican. During his homily, the Pope said, "The vocation of being a 'protector' … is not just something involving us Christians alone; it also has a prior dimension which is simply human, involving everyone. It means protecting all creation, the beauty of the created world, as the Book of Genesis tells us and as Saint Francis of Assisi showed us. It means respecting each of God's creatures and respecting the environment in which we live."
 

Transforming waste into useful products
by Evelyn Barge
Conversion technology may sound like a machine designed to swap out American dollars for euros or pesos, but the reality is much different. These technologies actually transform solid waste into useful products—particularly renewable energy.
Here in the Los Angeles area and the U.S. at large, waste-to-energy conversion systems are still an up-and-coming concept. But in many parts of the world, conversion technologies are already in place providing energy for entire populations. In Sweden, for example, the waste management system is so efficient, the country has turned to neighboring Norway and other countries for imports of trash to sustain its energy-generating program.
L.A. County has begun testing similar technologies in preparation for the closure of the Puente Hills Landfill. According to the Department of Public Works, "In the coming years, many of our region's largest landfills will close while we will still be producing a staggering amount of excess waste. Conversion technologies present a real opportunity to address our solid waste problems head-on and bring Southern California significantly closer to a zero-waste future."
"The Church has a responsibility towards creation and she must assert this responsibility in the public sphere."—Pope Benedict XVI, Caritas in Veritate (51)
Learn more about the conversion project in Los Angeles County at www.socalconversion.org
Garbology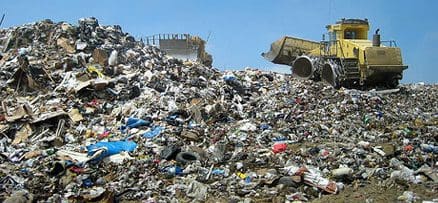 We know the mantra by heart—reduce, reuse, recycle—but a 2010 report by Columbia University found that 69 percent of garbage in the United States still goes directly to landfills.
About 12 miles southeast of Holy Family sits the largest municipal landfill in the entire country. The Puente Hills Landfill is home to more than 130 million tons of trash. In his book "Garbology," Pulitzer Prize-winning author Edward Humes puts this high-volume landfill into blunt context: "If Puente Hills were an elephant burial ground, its tonnage would represent about 15 million deceased pachyderms—equivalent to every living elephant on earth, times twenty."
Landfills help hide garbage, but they do little to solve the problems of accumulating waste. Besides the risk of groundwater contamination, landfills produce gas emissions that are harmful to human health, volatile and potentially explosive, according to the Environmental Protection Agency. The only way to stem the tide of trash flowing into landfills is to stop producing as much waste. Simple, at-home steps include shopping with reusable bags, avoiding overpackaged products and taking up composting.
Pope Benedict XVI has urged Catholics to respond to the crisis of environmental degradation. In 2009, he wrote, "We are called … to exercise responsible stewardship of creation, in order to protect it, to enjoy its fruits, and to cultivate it, finding the resources necessary for everyone to live with dignity."
"The earth dries up and withers, the world languishes and withers, the exalted of the earth languish." — Isaiah 24:4
What to do with old Refrigerators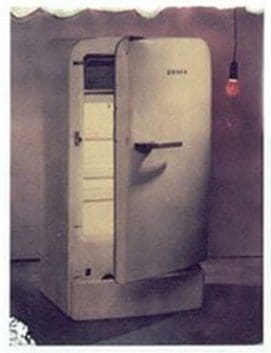 Can you teach an old refrigerator new tricks? Maybe not, but if you recycle that fridge, its parts may go on to find renewed purpose. Defunct refrigerators once cluttered up landfills and released harmful chemicals and gases into the atmosphere. Today, recycling centers can dismantle refrigerators, harvesting useful metal, plastic and other parts while safely disposing of toxic elements.
In an episode of "California's Green," television host Huell Howser looks at the new adventures of old refrigerators, and finds there's more to the equation than significant savings on energy bills.
And, as Pope Benedict XVI reminds us in his 2010 World Peace Day message, Catholics are called to look deeper, beyond the immediate benefits of conservation. "… The real motivation must be the quest for authentic world-wide solidarity inspired by the values of charity, justice and the common good," he writes.
Watch the Huell Howser episode at http://vimeo.com/19490884.
"… Education, correctly understood, cannot fail to foster respect for creation." — Pope Benedict XVI
What is House Deconstructing?
"The one who sat on the throne said, 'Behold, I make all things new.'" — Revelation 21:5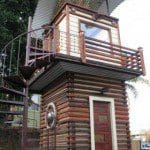 You've heard of constructing a house, but what of deconstructing one? On an episode of "California's Green," Huell Howser visits the, a nonprofit organization dedicated to keeping building materials out of landfills. The group helps homeowners by taking buildings down, board by board, in the reverse order that they were built. In the process, they salvage everything—from lumber and roofing to toilets and fixtures—to be reused. Up to 85 percent of the total weight of a house can be diverted from the landfill.
The salvaged materials also represent a potential tax write-off for the homeowner, making home deconstruction not only a wise environmental decision, but also an economic one.
Pope Benedict XVI has underscored the importance of valuing resources: "In dialogue with Christians of various churches, we need to commit ourselves to caring for the created world, without squandering its resources, and sharing them in a cooperative way."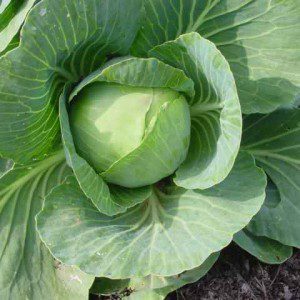 Spend a day in the life of a head of cabbage as TV personality Huell Howser tracks the path of this leafy green vegetable—from the farm, through the Los Angeles Regional Foodbank, to the table of a family in need. For the agriculture industry in California, it's a case of "waste not, want not," as surplus resources go to help the hungry.
In a pastoral statement on "Renewing the Earth," the United States Conference of Catholic Bishops touched on this issue. "The ecological problem is intimately connected to justice for the poor," the bishops wrote. "… Nature will truly enjoy its second spring only when humanity has compassion for its own weakest members."
"At its core, the environmental crisis is a moral challenge. It calls us to examine how we use and share the goods of the earth, what we pass on to future generations, and how we live in harmony with God's creation." — United States Conference of Catholic Bishops
What Happens to Discarded Tires?

 
It's a problem that just keeps growing. Each year, more than 30 million used tires are discarded in the state of California alone. They are left to languish in landfills for decades to come.
But the fate of used tires need not be synonymous with environmental blight. As part of his "California's Green" series, television personality Huell Howser profiled organizations working to answer the challenge of safely re-using old tire rubber. From durable flooring to rubber mulch, the practical uses for recycled tires are diverse and multiplying. For Catholic consumers, the significance of the effort is underscored by Pope Benedict's 2010 World Peace Day message, which emphasized respect for creation as "the beginning and the foundation of all God's works."
To learn more about innovative recycling projects for discarded tires, watch the Huell Howser episode at  http://www.calgold.com/green/Default.asp?Series=100&Show=658.