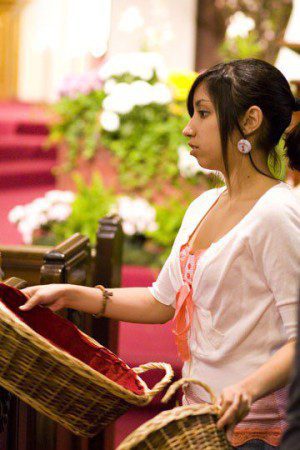 Mission Statement
The Usher Ministry serves the worshiping assembly by providing a welcoming, hospitable atmosphere and assuring the orderly progress of the liturgy.
About the Usher Ministry
The Usher Ministry finds it roots in Hebrew scripture. The Second Book of Kings speaks of the "doorkeepers" who collected money offerings from the people (2 Kings 22:4).
Ushers are liturgical ministers, assuring the comfort of the assembly in the worship space and performing various functions during the liturgy.  Ushers help people sit together, if someone is sick or needs emergency care, they can count on the ushers to help quickly and with professional care.  Ushers take up the collection and manage the Gift Bearers for the Preparation of the Gifts.  They manage the flow of the Communion procession. The usher is often the last liturgical minister one encounters as one exits the church as he or she distributes the bulletins and wishes you a fond farewell until next we meet.
The Usher Ministry at Holy Family is open to men, women, singles, couples, families, youth, young adults, and seniors. Some ushers have served the community for decades, while others have joined the ministry fairly recently. Sixty-five parishioners now serve in this ministry, including twenty youth ushers, who serve at the Sunday, 5:30 p.m. Mass. Although the Sunday, 5:30 p.m. Mass is called our "Youth Mass," youth and young adults may usher at any Mass.
Leadership Team
Under the leadership of a Head Usher, usher teams serve at all weekend Masses and at other services, such as First Eucharist and Confirmation, Holy Days, Holy Week, Easter, and Christmas.
Weekend Mass teams are led by these Head Ushers:
Saturday
5:00 p.m.    Mario Lopez
Sunday
6:30 a.m.
8:00 a.m.
9:30 a.m.    Richard McCann
11:15 a.m.  Julio Herrera
12:45 p.m.  Phillipe Enciso
5:30 p.m.    Youth Ministry
Meetings
The usher community holds two meetings a year to review procedures and to prepare for Holy Week and Easter services and for Christmas Eve and Christmas Day Masses.
Volunteer Ministry Opportunity
Please consider becoming a Holy Family Usher. To be a good usher a man or woman has to have a good sense of liturgical prayer.  Secondly, a good usher has the gift of hospitality. For a complete description of an usher's responsibilities or to volunteer, see the Usher or Youth Usher ministry descriptions. You may also speak with the Head Usher or any member of the usher team at a particular Mass.
Contact
Fr. Albert Bahhuth
Pastor
Fralbert@holyfamily.org