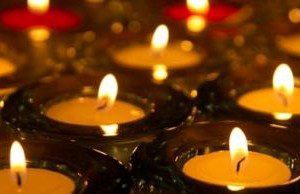 January 31, 2015   As part of this year's diaconate formation each of the couples in St. Elizabeth Ann Seton group have to present a twenty-minute presentation on one of several spiritualities during the year. Examples can include Franciscan, Benedictine, or even Tiaze'. The purpose of these are to allow the class to become familiar with the different types of spiritualities that exist and some of the aspects of each presented.
We selected Taize' because we have attended a number of Taize' prayer services and wanted to learn more about the workings of the service.
Taize' was started in the 1940's in Taize' France by Brother Schutz. The community started with seven total and were ecumenical in nature. In the 1960's they began to invite youth to Taize' for retreats and now can have up to 6000 attendees a week. Their unique style of prayer services and music, like Ubi Caritas, are now conducted worldwide at a variety of Christian Churches.   The impact of Taize' is amazing when you consider that the community members numbers less than 130 worldwide.
We supplied the class with a brief outline about the origins of Taize, the current membership, as well an outline of the day's activities for those attending the retreats. Upon completion of the presentations we answered questions and discussed the benefits of this wonderful spirituality community and services.
Additional information about Taize' Spirituality can be found at the following:
We continue to be grateful for your support and prayers as we continue this amazing journey.
If you have any questions about what we have experienced in the diaconate (aka "that deacon thing"), please ask us or send us an e-mail to gbmom_01_02@yahoo.com.
If you are interested in becoming a Deacon or a Deacon Couple for the Archdiocese of Los Angeles, please contact:
Diaconate Formation Office
Archdiocese of Los Angeles
3424 Wilshire Boulevard, 2nd Floor
Los Angeles, CA 90010-2241
213-637-7383
Candy & Jay Krueger,
Candidacy Year II, Diaconate Formation,
Holy Family Church, South Pasadena, CA