Mission Statement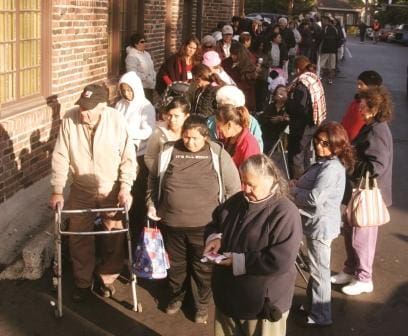 Holy Family Church's Giving Bank takes seriously our baptismal call to be responsible, respectful stewards of one another. Recognizing that God works in and through the world, and in each one of us, the Giving Bank provides direct relief to those in the local Los Angeles area who face food insecurity and hunger. Our action is implemented in a welcoming spirit of Christian love for one another, recognizing that all involved are assembled as God's community.
About the Giving Bank
The Giving Bank assists in fulfilling the mission of Holy Family Church by "reaching out to those in need." It recognizes that our brothers and sisters requiring assistance are not just the people with whom we celebrate the Sunday liturgy. They are the people outside of our local parish boundaries – the people who are struggling economically or those who may, indeed, be devoid of all resources and homeless.

Items Needed
Pasta
Canned or powdered milk
Cereal
Canned soup
Canned tuna
Canned vegetables
Dried fruit
Nuts
You can place your bags in our bins under the counter at each church entrance OR bring them to us at the St. Joseph Center, Tuesday – Friday from 8:00 a.m. – 4:00 p.m.  Remember to press the black buzzer so we know you're there!
Grow food for the Giving Bank
You can also help provide fresh fruits and vegetables for Holy Family's Giving Bank, as well as Homegirl Cafe, by donating produce that has been grown by you and your neighbors.   Do you have extra fruits or veggies from your garden that you'd like to donate to the Giving Bank?  Contact Food Forward  if you need help harvesting it – they will harvest and deliver it to the Giving Bank.
Volunteer Ministry Opportunity
There are many ways to help at the Giving Bank. We invite you to become part of this fun, faith-filled group of volunteers.
Purpose of Position
To assist in the distribution of food to approximately 230 families every Monday between 9:00 a.m. and 10:45 am.  All tasks are performed on Mondays, except for major holidays when the Giving Bank is closed.
Responsibilities
Runner
Carries bags of food to clients' cars; some lifting (up to 15–20 lbs).
Parking Patrol
Controls and directs flow of cars, ingress/egress; oversees parking and assures general safety throughout parking lot.
Bagger
Bags bread and miscellaneous items on Mondays.
Hospitality
Prepares trays of healthy food items and distributes to clients waiting in line; handling of knives required.
Food Handler
Receives ticket from client and delivers bag of food (lifting 10-15 lbs.).
Homeless Lunch Preparation
Assists support staff in making sandwiches and bagging  other healthy items for lunch.
Read: Feeding the Homeless in Skid Row
Clothing Ministry
Assists lead volunteer in distribution of clothing in an orderly manner.
Skills Needed (All Positions)
A friendly attitude toward clients and volunteers.
Ability to work within a group setting.
Ability to be flexible with the tasks assigned.
Additional Requirements
Those interested in volunteering at the Giving Bank will complete a Volunteer Interest Form and will be advised of regulations regarding Giving Bank resources and VIRTUS "Protecting God's Children" awareness training.
Amount of Time Required
Approximately 2–3 hours per week; flexible schedule (e.g,. 7:30 a.m.-9:30 a.m.; 8:00 a.m.-10:30 a.m., etc.)
When Ministry is Performed
Monday mornings (except for major holidays).
What to Wear
Something you wouldn't mind getting dirty! Flat, comfortable and covered shoes.
Length of Commitment
Volunteers are needed especially during the summer. You may serve as long as you would like!
Training
Provided on site.
Calendar
Food Bagging, Sundays 9:00 a.m. – 10:30 a.m., St. Joseph Center
Food Distribution, Mondays 9:00 a.m. – 10:45 a.m., St. Joseph Center
What is it like to Volunteer at the Giving Bank?
Fran Hovorka

"It means everything to me to be involved at Holy Family." – Fran Havorka 
Fran Havorka's stature may make her easy to look-over, but her "light-up-the-room" smile makes her impossible to overlook. Fran has been volunteering at Holy Family's Giving Bank for six years and truly has a heart for its mission. Every Monday morning Fran looks forward to serving the community and to re-connecting with her friends.   Fran shares that, "volunteers at the Giving Bank get  a chance to develop real relationship with the clients, I have seen some of the children 'grow-up' from infancy to 2nd grade, clients often ask about long-time volunteers when they're not there in the morning.  It's not unusual to get hugs from some of the clients who I know well, and one of them even hands out candy to everyone!"
Who?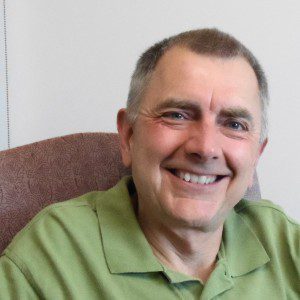 Harlan Klipp is a longtime Holy Family Parishioner, husband, father and 10 year volunteer at the Holy Family Giving Bank.  Harlan is the "lead " grocery bagger on Sundays when 250 grocery bags are "packed" by 5 to 6 core volunteers and others willing to lend a hand.
Where?
Holy Family's Giving Bank (food pantry) is located at the St. Joseph Center, across the street from Holy Family Church, and feeds about 250 families every week.  Other volunteers add produce and dairy on Monday mornings and then hand out the groceries.
When?
"I come in just about every Sunday morning from 9:00 to ~10:30 am. I open up the building and help organize the volunteers.  We get it done fairly quickly, we're pretty efficient and  the Giving Bank Director has everything really well organized."
How?
"I first began volunteering here with my family, helping to wrap gifts for the [tree angels] at Christmas.  And then, my children were required to do service projects for school, so we looked to Holy Family and the Giving Bank for ideas.  We all began bagging groceries on Sundays and I've just kept doing it.  It's a great opportunity for families to volunteer together, although I believe kids need to be at least junior high age and there is physical labor involved."
Why?
"The "work" we do is important and it's tangible.  You can see that your time spent actually accomplishes something- helping the needy."
"The volunteers here are a really good group, it's very informal and we have fun.  There is a lot of camaraderie and there are volunteers of all ages and vocations, from high school kids to retirees. We say, 'Come three times and you're hooked.'"
What?
"Working here has made me less judgmental.  We feed anyone, no questions asked.  If someone knocks at the door in need of food then we find something for them.  Sometimes the person doesn't look like someone you'd think might be in need, but you just never know.  It helps you think about life.  I learn something every week."
Contact
The Giving Bank
St. Joseph Center
1524 Fremont Ave.
South Pasadena, CA 91030
Marlene Moore, Director (626) 403-6141
Give us a call – we'd love to hear from you!
Resources
The Giving Bank is one agency responding to persons who face food insecurity in theLos Angeles area. There are many organizations involved in this endeavor. Here is a sample of some of the agencies with which the Giving Bank networks:
Los Angeles Regional Food Bank (the source of 90% of Giving Bank food)
Food Insecurity Report in Los Angeles, L.A. County Department of Health Services
Los Angeles Homeless Services Authority
LAHSA is a City-County Joint Powers Authority, an independent unit of local government, formed to address the problems of homelessness on a regional basis.
211 LA County. 211 LA County is dedicated to providing an easy-to-use, caring, professional source of guidance, advocacy, and 24 hours 7 days per week access to a comprehensive range of human services to the people of Los Angeles County.

Los Angeles Catholic Worker Soup Kitchen